RECREATIONAL USES
ScreenLet Window Screen Inserts for Recreational Vehicles and More!
Order Yours Today!
Enjoy Indoor Resources
WHEN AND WHERE YOU NEED THEM
It's always tricky trying to figure out how to run power cables and other resources outdoors when you're at home, but it can be even more of a task when you're in a camper, RV, or even a boat. At ScreenLet, our goal is to simplify running indoor resources outside with our easy-to-install DIY window screen pass-through attachment. ScreenLet is ideal for any window screen located on residential and commercial buildings, and even on recreational vehicles and more! Excited to learn more about ScreenLet? Keep reading! If you're ready to get yours, visit our online shop to purchase your ScreenLet cord door today!
Benefits of the ScreenLet Window Screen Pass-Through
• Makes resources accessible when and where you need them — even while traveling!
• Fits easily into any standard window screen.
• Perfect for vertical, horizontal, or crank windows.
• Super easy to install.
• Run multiple power cords through the window screen insert simultaneously.
• Efficiently run power cords, cabling, wiring, and small hoses outside.
• Perfect to use year-round in various climates.
Discover the ScreenLet Difference!
Have you ever needed a power cord, hose, or other resource outside of your cabin, camper, RV, or boat? Chances are good that you have plenty of electrical plugs inside, but find that there is maybe one, if any, on the outside of these structures and motorized vehicles. While you can get really creative in trying to come up clever ways to run power cords and other items from the inside, say, through an open window or door, this isn't always ideal, nor is it always convenient or safe, for that matter. Well, we have the best solution for you!
ScreenLet makes it simple, convenient, and hassle-free to easily and quickly enjoy inside resources outside — even while traveling! The ScreenLet window screen insert attaches to any standard window screen, allowing you to extend power cables, hoses, and more from the inside of your recreational vehicle or structure to the outside for maximum usability and enjoyment.
What's more, the convenient pass-through component allows you to run various resources through the screen without worrying about pesky flies, mosquitoes, and critters getting inside as you would if you had to keep the window open without the screen. For added convenience, the ScreenLet cord door makes it incredibly easy to run power inside from an outdoor generator, which can completely change your camping experience if you're staying in a cabin or a yurt without electricity.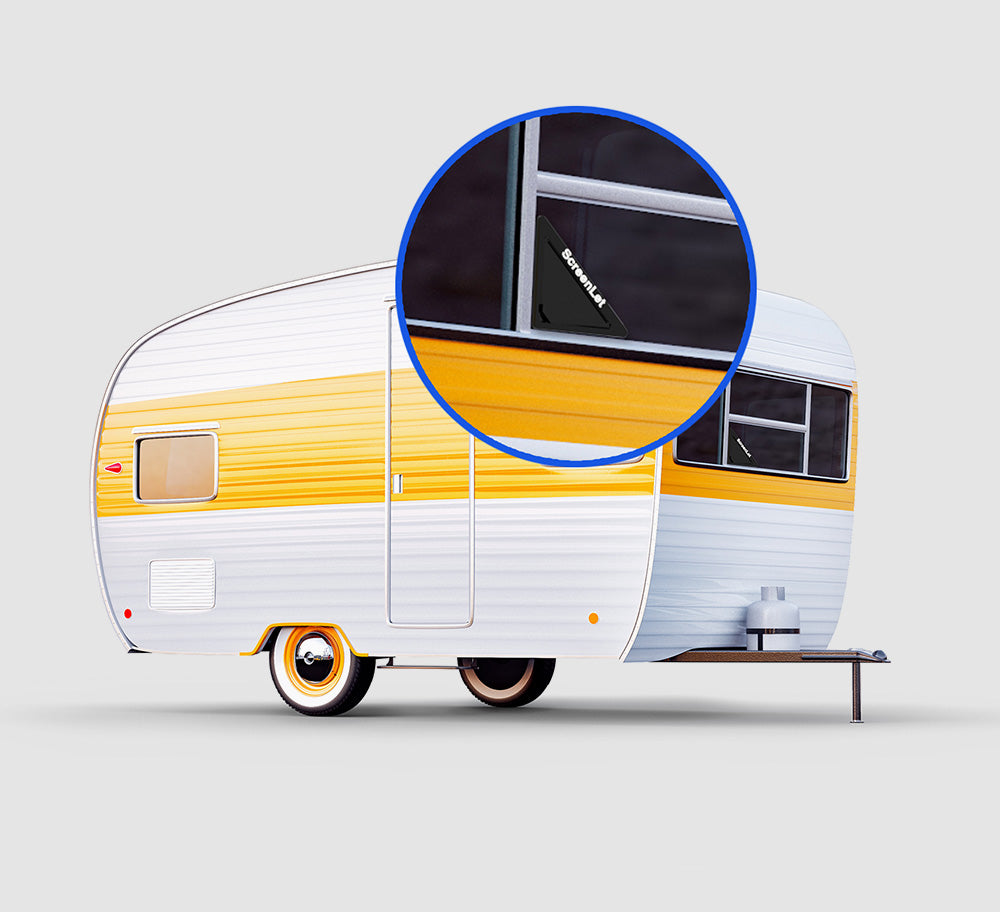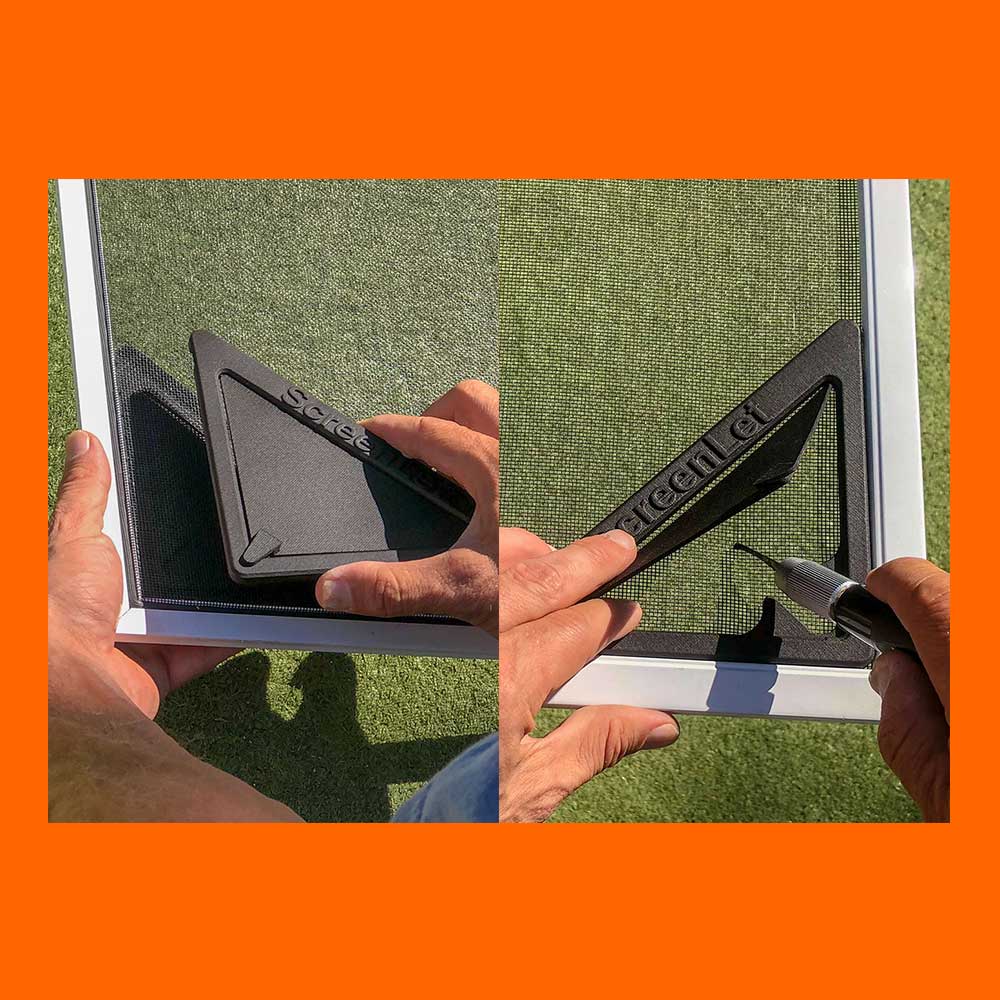 How to Install Your ScreenLet Window Screen Insert
Installing ScreenLet is a breeze! The process takes just a few minutes to complete, and the only tool you will need is a utility knife or pocket knife to make a few incisions in the screen. Check it out!
1) Unpackage your ScreenLet and decide where on the screen you want to install it — either the right or left angle of the screen.
2) In some cases, it may be easier to remove the screen to install ScreenLet.
3) Next, place the two triangular attachments on either side of the screen, and then connect the ends together in the corner.
4) Then, attach the cord door piece to the other components.
5) Finally, using your utility knife, carefully create a small incision on your screen that follows the shape of the ScreenLet.
6) Be sure to leave the excess mesh attached to help deter insects.
7) Boom! It really is that easy!
Where Can I Use ScreenLet?
The ScreenLet cord door attachment can be easily installed on any standard window screen on an array of recreational vehicles, facilities, and structures, including:

• Class A, B, and C
• Motorhomes
• Truck Campers
• Popup Campers
• Fifth Wheel Travelers
• Buses
• Boats
• Cabins
• Yurts
• Semi Trucks
• And More!
Here at ScreenLet, we want to help everyone everywhere, enjoy simple and convenient access to the indoor resources they need outside — even while traveling or recreating!Order Today!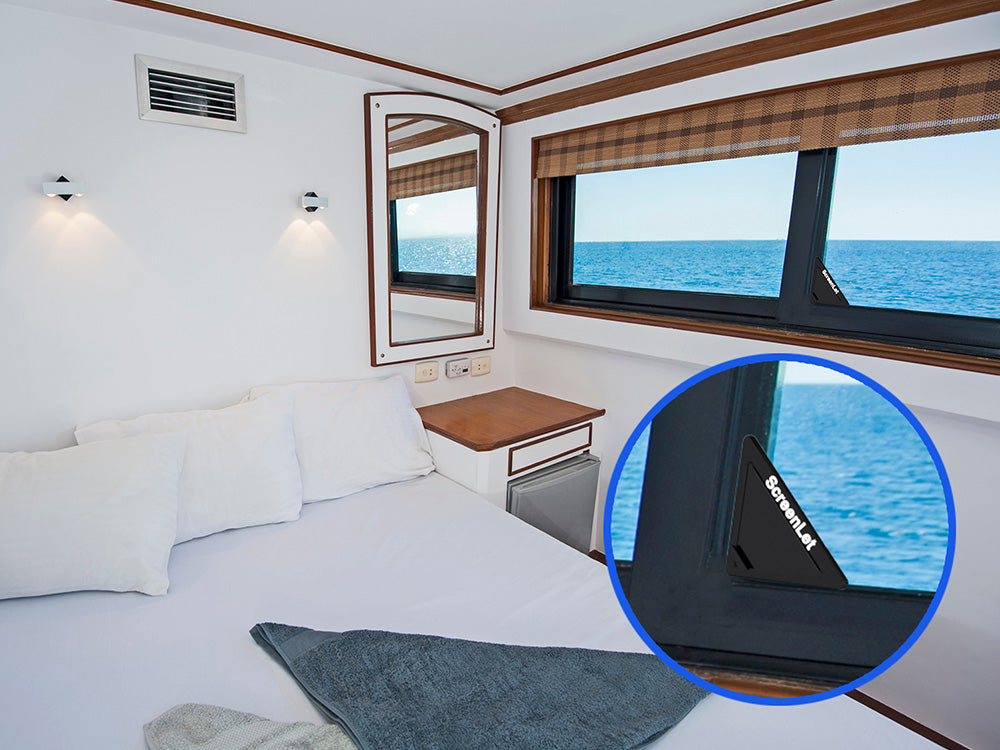 Enjoy the Convenience of Indoor Power Outdoors
The ScreenLet window screen insert is all you need to enjoy the convenience of your indoor resources outside while you're traveling, camping, and enjoying recreational adventures of all kinds. Not only does ScreenLet make various indoor resources accessible, but it can also make your recreational activities a little more comfortable and fun! Order your ScreenLet today and discover the difference a window screen pass-through can make! If you have questions, please do not hesitate to reach out to our friendly team for assistance, and be sure to explore our FAQs for more information about ScreenLet.
Get My ScreenLet